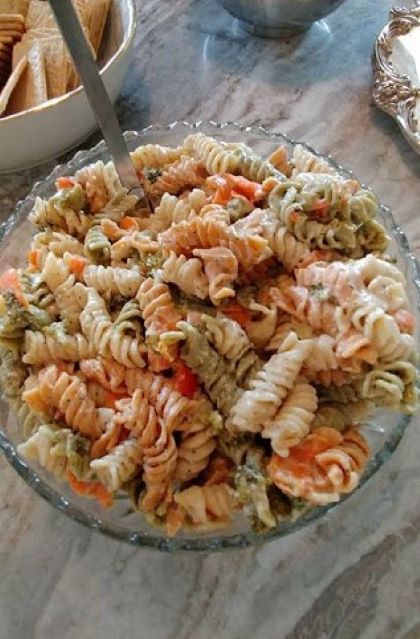 Fresh and easy pasta salad filled with crunchy vegetables, fresh mozzarella and tossed with a simple house dressing. It's the perfect side dish! Go to the Easy Pasta Salad Recipe or watch our quick recipe video showing you how to make it.
It's the ultimate summer lunch and it's great to have a picnic or serve as a side to a barbecue.
Ingredients:
° 400 g of pasta
° 250g of buffalo mozzarella or 250g of cow mozzarella
° 6 tomatoes
° 2 handfuls of green olives
° 4 teaspoon of olive oil
° 4 teaspoon of oregano
° 4 teaspoon of pesto
° 1 clove of garlic
° Salt
Instructions :
1 – Cutting tomatoes to small cubes.
2 – Putting diced tomatoes in a bowl & salt
3 – Adding olive oil
4 – Cut the garlic into large pieces. The notion is that garlic infuses its flavor . If you like garlic, you can finely chop it and leave it in the salad.
5 – Add oregano
6 – Cut the olives into slices and add them to the tomatoes
7 – Cut the balls into slices then dice, let drain on a plate
8 – Add the tomato pesto and mix
9 – Pour the pasta in a big volume salt boiling water
10 – When the pasta is cooked, drain it
11 – Add the still hot pasta to the bowl with the tomatoes. Add the cheese and mix.
ENJOY !