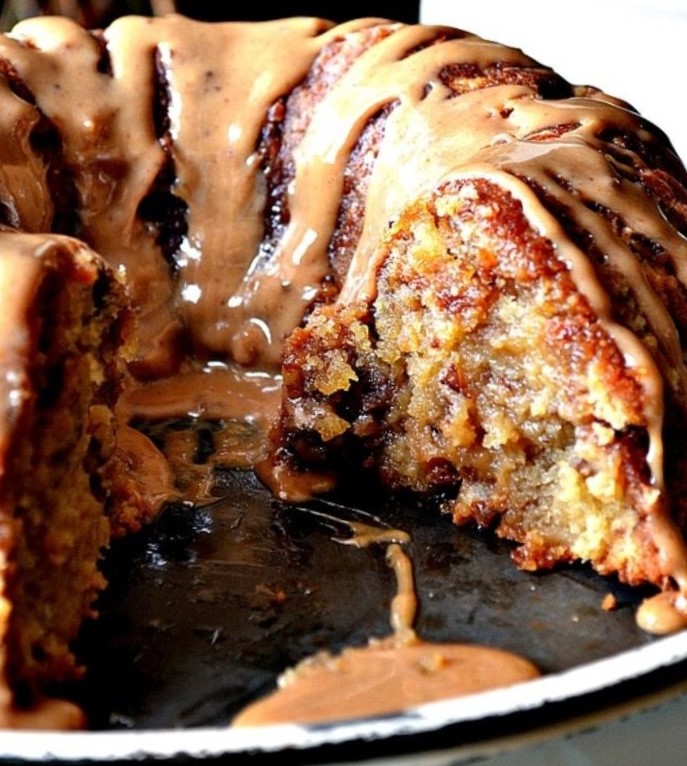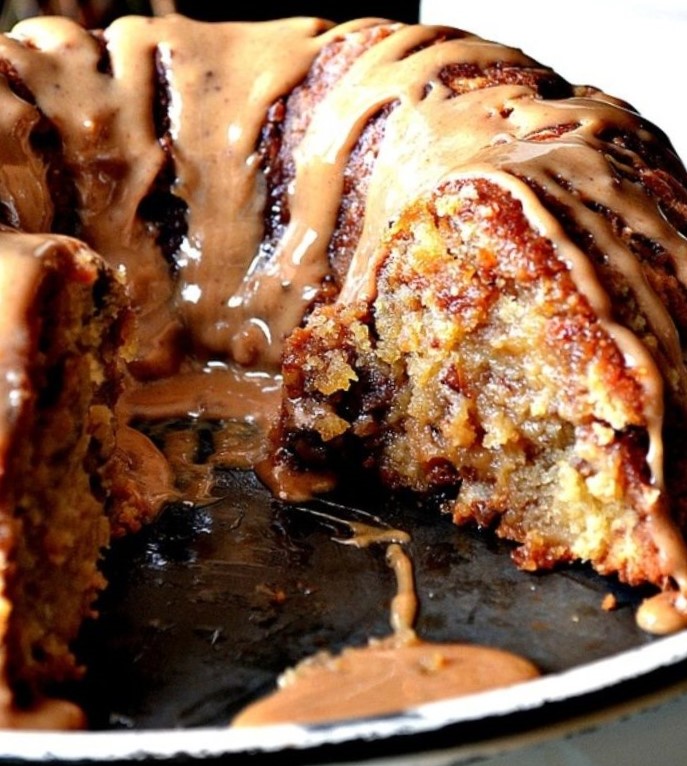 This recipe is for a Brown Sugar Caramel Pound Cake. It is a rich, moist cake that is full of flavor from the combination of brown sugar, toffee chips, and pecans. The cake is made by creaming butter and sugars together, then adding eggs one at a time. The dry ingredients, which include flour, baking powder, and salt, are added alternately with milk to make a batter. The toffee chips and pecans are stirred in, and the batter is baked in a Bundt pan. After the cake has cooled, a caramel drizzle is made by boiling sweetened condensed milk, brown sugar, butter, and vanilla extract together, then drizzled over the cooled cake. The recipe suggest to make sure to drizzle the caramel when it's still hot as it will somewhat harden when cooled.
Ingredients:
1 ½ cups butter softened
2 cups light brown sugar, packed
1 cup granulated sugar
5 large eggs
3 cups all-purpose flour
1 teaspoon baking powder
½ teaspoon salt
1 cup whole milk
1 8oz bag toffee chips (I use Heath)
1 cup pecans, chopped
Caramel Drizzle:
1 – 14 oz can sweetened condensed milk
1 cup brown sugar
2 tablespoons butter
½ teaspoon vanilla extract
—
Directions:
Preheat oven to 325 spray a 12 cup Bundt pan with cooking spray or grease and dust with flour
Beat butter until creamy. Add sugars beating until fluffy. Add eggs one at a time. In medium bowl, combine flour, baking powder and salt. Add flour mix to batter alternately with milk, beat until just combined. Stir in toffee chips and pecans. Spoon batter into pan and bake 85 minutes or until wooden pick comes out clean. To prevent excess browning, cover cake with foil while baking.
Let cake cool in pan for 10 minutes. Remove from pan, and let cool completely on a wire rack. Spoon caramel drizzle over cooled cake.
Directions for Caramel Drizzle
In a medium saucepan combine condensed milk and brown sugar; bring to a boil over medium-high heat, whisking frequently. Reduce heat, and SIMMER for 8 minutes, whisking frequently. Remove from heat; whisk in butter and vanilla. Let cool for 5 minutes before using. NOTE: Make sure to drizzle the caramel while it's still HOT.
When cooled the caramel does somewhat harden.