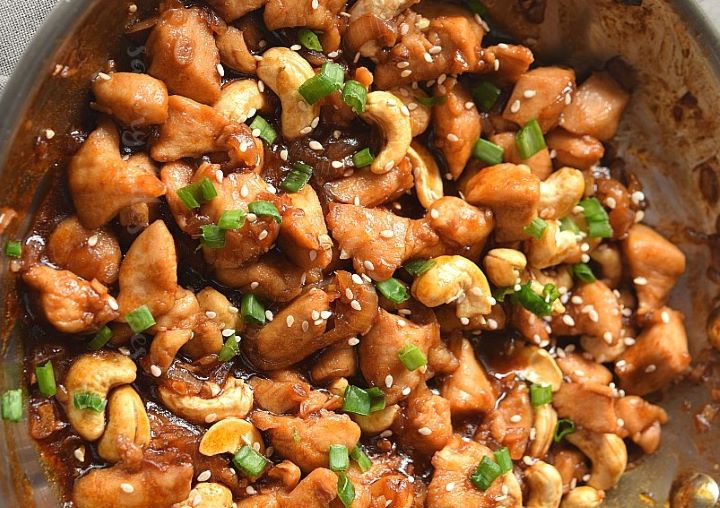 Ingredients
1.5 Cup Chicken, breast meat,cut into small pieces

1 tsp Sesame Oil

1/4 tsp Baking Soda

1 tsp Black Pepper Powder

1 Tbsp Sauce Mix

1/2 Tbsp Cornstarch

For Cashew Chicken Sauce:

1/4 Cup Unsalted Chicken Stock

1.5 Tbsp Low Sodium Soy Sauce

1 tsp Sugar

1 Tbsp Rice Vinegar

1 Tbsp Hoisin Sauce

1 tsp Sriracha

1 Tbsp Oyster Sauce

A dash of Black Pepper Powder

1 Tbsp Tomato Ketchup

1 tsp Chili Garlic Sauce

Additional:

1 Tbsp Sesame Oil

1 Tbsp Vegetable Oil

1 tsp Ginger,grated

1 Tbsp Garlic,grated

1 Small White Onion,chopped

3/4 Cup Unsalted Cashews Roasted Whole

2 Tbsp Chopped Spring Onion,green

Sesame Seeds
Instructions
In a bowl add the ingredients mentioned for sauce mix.

Mix well everything and keep aside.

In another bowl,add the chicken pieces,clean.

Add the ingredients mentioned and mix well and keep aside.

Heat a pan/skillet/wok,add the sesame oil and vegetable oil.

When its hot,add the chicken pieces and immediately stir fry till cooked well.

Keep this aside.

In the same pan,add the ginger,garlic and onion.

Stir fry till soft.

Add the sauce mix to this and let it cook for few seconds till it slightly thickens.

Next add the chicken pieces and toss well to coat the chicken with sauce mix.

Finally adjust salt and add cashews,chopped green onions and sesame seeds.

Serve with rice or noodles of your choice!