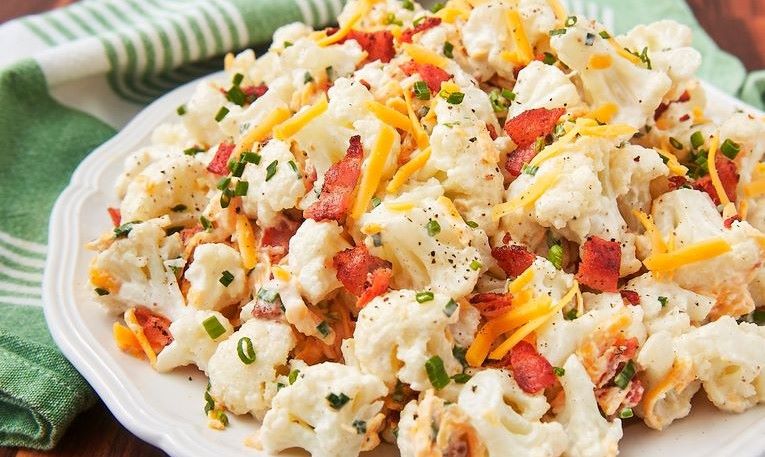 Loaded Cauliflower Salad is everything you love about loaded potato salad in a scrumptious LOW CARB form! Seriously, no one could even tell- it is just simply incredible! Loaded with bacon and cheese!
Ingredients
1 tablespoon olive oil
salt & pepper to taste
1/2 cup sliced radishes
1/2 cup diced celery
1/2 cup shredded sharp cheddar cheese
2 green onions, sliced
4 slices bacon cooked and crumbled
DRESSING
1/2 cup mayonnaise
1/4 cup sour cream
3 tablespoons sweet relish
1 teaspoon Dijon mustard
1 tablespoon apple cider vinegar
Instructions
Preheat oven to 425°F.
Cut the florets off of the thicker center stalk of the cauliflower.
Chop the florets into bite sized pieces and transfer to a parchment paper lined baking sheet.
Using your hands, toss the cauliflower with olive oil, salt and pepper.
Bake 15-20 minutes or until tender crisp.
Set aside to cool completely.
In a small bowl, whisk the mayonnaise, sour cream, sweet relish, Dijon, apple cider vinegar, salt, and pepper.

In a large mixing bowl, combine the cooled cauliflower, radishes, celery, cheese, green onions and bacon.

Pour the dressing over the cauliflower mixture and toss to combine. Allow to chill for 2 hours before serving.