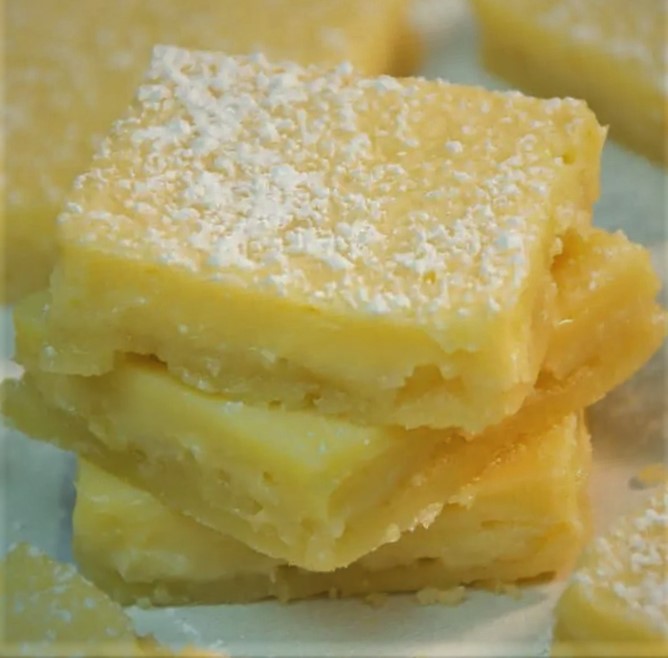 Those who like the taste of lemon will certainly enjoy this different and delicious recipe for lemon bars that ineskolh.info shares with you. This is a lemon dessert with a crunchy base and a filling with a pudding-like consistency, but you can also use another variety of lemons to make it. Check below the preparation of lemon bars and try them!
Ingredients to make Lemon bars:
For the base of the bars:
 1 cup Wheat flour (140 grams).

 ¼ cup sugar (50 grams)

 8 tablespoons of unsalted butter, melted

 1 pinch of salt

 1 dessertspoon vanilla essence or extract.
For the filling:
 3 eggs

 3 tablespoons Sicilian Lemon juice

 1 cup of sugar (200 grams)

 4 tablespoons of corn starch

 3 tablespoons of unsalted butter, melted

 1 pinch of salt

 1 piece of Sicilian lemon
How to make lemon bars:
To prepare these Sicilian Lemon Sticks you need to start by gathering the ingredients.

To prepare the base of this lemon dessert you have to mix in a bowl all the corresponding ingredients (flour, sugar, butter, salt, and vanilla essence) until you obtain a homogeneous and compact dough

Cover with aluminum foil a rectangular mold of about 20 cm in diameter. With a spatula, spread the mixture of the base of the lemon bars on the bottom. Bake the dough base in a preheated oven at 180°C for about 20 minutes, or until golden brown.

Meanwhile, prepare the filling for the lemon bars: to do this, beat together in a blender or food processor the lemon juice and pulp (without seeds). Ideally, the lemon pulp should be in very small pieces, and if desired, it can be passed through a sieve.

To continue preparing the filling for the lemon bars, mix the previous preparation with the sugar.

Add the remaining ingredients and mix everything very well.

When the base of the lemon bars is well baked, pour the previous mixture on top and bake again in the oven at 150°C for 30 minutes, or until the filling has a pudding-like consistency.

After this time, remove the lemon dessert from the oven and let it cool completely. Unmold and with a knife, cut into lemon bars. Sprinkle with powdered sugar and serve immediately. Bon appétit!