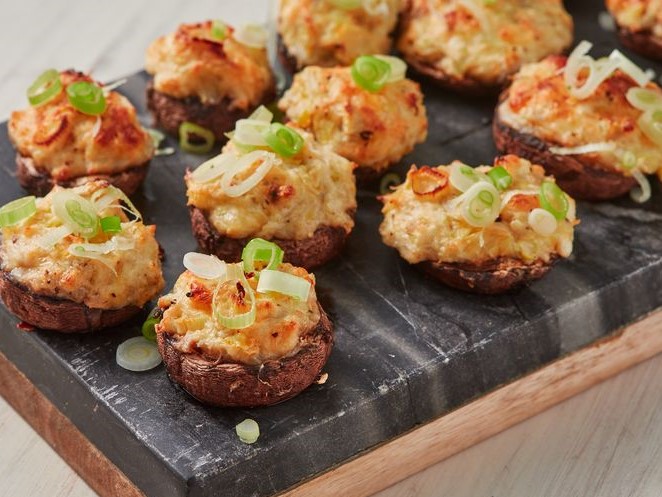 Crab Stuffed Mushrooms
Prep Time
10 mins
Cook Time
30 mins
Total Time
40 mins
Crab Stuffed Mushrooms are super delicious and made with simple ingredients. They are packed with flavor and oh, so creamy! A crowd favorite.
Servings: 8 people
Calories: 134 kcal
Ingredients
8 ounces white button mushrooms
1 tbsp oil
1 tbsp finely diced onion
2 garlic cloves, minced
1/4 tsp dried oregano
1/4 tsp dried basil
1/4 tsp dried thyme
2 ounces cream cheese, softened
1/4 cup sour cream
1/4 cup mozzarella cheese, shredded
3 ounces Louis Kemp Crab Delights®
salt and pepper, to taste
1/4 cup parmesan cheese, shredded
fresh parsley, to garnish (optional)
Instructions
Preheat oven to 350 degrees and grease a baking sheet. Set aside.
Using a wet paper towel gently wipe dirt off mushrooms. Remove the stem and the gills from the mushrooms and finely chop.
Over medium heat add oil to a sauté pan. Once the pan is warm add diced onion, minced garlic, and finely chopped mushroom stems and gills. Sauté for 2 minutes and remove from heat.
Mix in the oregano, basil, thyme, cream cheese, sour cream, mozzarella cheese, and Louis Kemp Crab Delights®. Season with salt and pepper, to taste.
Spoon the mixture into the mushrooms and repeat with all mushrooms.
Sprinkle parmesan cheese on top of each stuffed mushroom and bake for 30 minutes, or until golden.
Remove from oven and serve. Garnish with fresh parsley (optional).