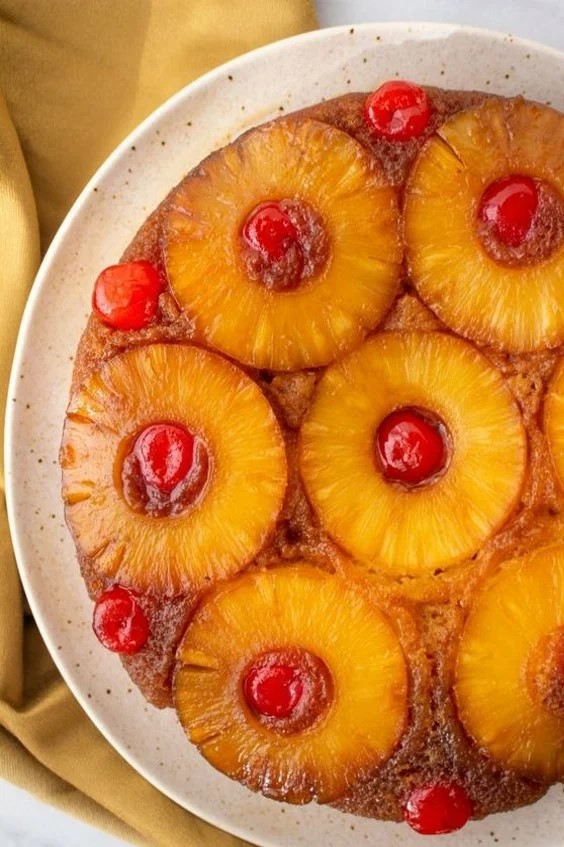 Quick, Easy and looks so impressive! It came out great and our family doctor could not wait for it to cool!
WHAT YOU NEED :
– 1/4 cup unsalted butter
– 1 cup packed light brown sugar
– 1 can (20 oz) pineapple slices in juice, drained, juice reserved
– 1 jar (6 oz) maraschino cherries without stems, drained
– 1 box Betty Crocker Super Moist yellow cake mix
– Vegetable oil and eggs as called for on cake mix box
PREPARATION :
STEP 1 :
Preheat oven to 350 then melt butter in oven in 13 x 9 inch pan. Sprinkle brown sugar evenly over butter. Gently press pineapple slices on brown sugar then please gently press a cherry in center of each pineapple slice, arranging remaining cherries around slices.
STEP 2 :
Add enough water to reserved pineapple juice to measure 1 cup. Make cake batter as directed on box, substituting pineapple juice mixture for the water. Pour batter over pineapple and cherries.
STEP 3 :
Bake for 42 to 48 minutes or until toothpick inserted in center comes out clean then directely run knife around side of pan to loosen cake. Place heatproof serving plate upside down onto pan; turn plate and pan over. Leave pan over cake 5 minutes so brown sugar topping can drizzle over cake. Allow to cool & Enjoy!