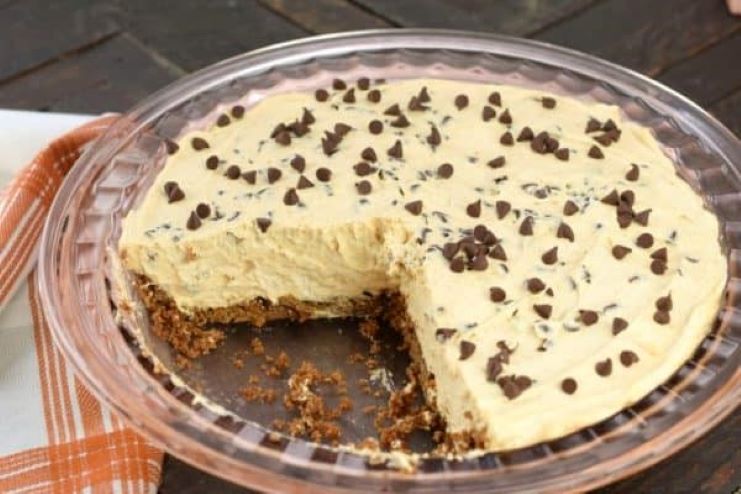 This No Bake Pumpkin Cheesecake Recipe is the perfect holiday dessert. Easy gingersnap crust with a creamy pumpkin cheesecake filling chock full of chocolate chips! 
Ingredients
For the crust
2 1/2 cups Gingersnap Cookie Crumbs
2/3 cup unsalted butter, melted
For the filling
2 packages (8 oz each) cream cheese, softened
1 can (14 oz) sweetened condensed milk
1 cup canned pumpkin puree
1 Tbsp lemon juice
1 1/2 tsp cinnamon
1/4 tsp ground cloves
1/4 tsp ground nutmeg
12 oz Cool Whip, thawed
1/4 cup mini semi- sweet chocolate chips
Instructions
In a food processor, pulse gingersnap cookies until fine crumbs. You'll need 2 1/2 cups of crumbs. Add in melted butter and mix with a fork.
Press crust into the bottom of two pie plates.
In a large mixing bowl, combine cream cheese with sweetened condensed milk. Beat until fluffy, about 3-4 minutes, scraping down the sides of the bowl as needed.
Add in pumpkin puree, lemon juice, cinnamon, cloves, and nutmeg. Beat until combined.
Fold in Cool Whip and chocolate chips. Pour into prepared crusts, dividing filling evenly between the two pies.
Refrigerate pumpkin cheesecake for at least 3 hours or overnight. Slice and ENJOY.