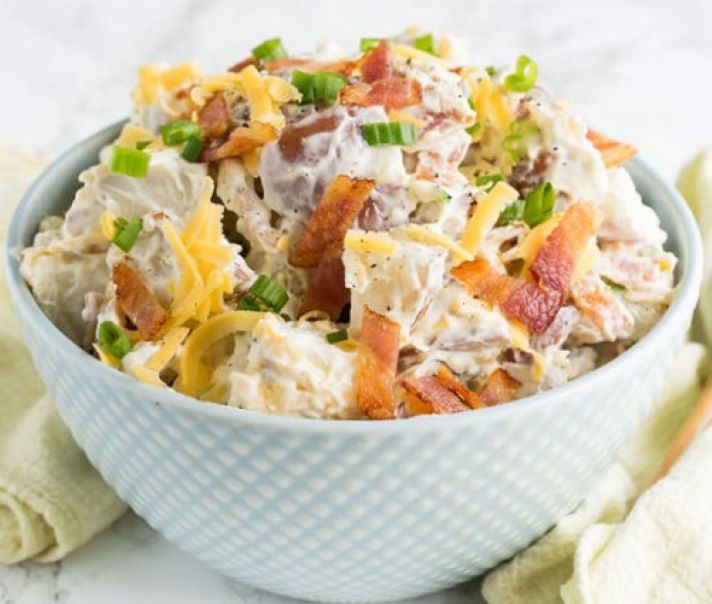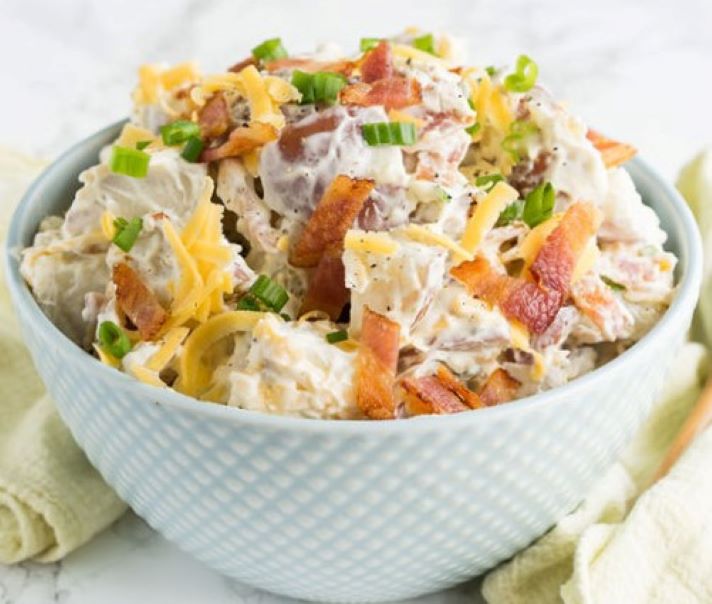 This well-baked potato salad is sweet with baked potatoes with bits of cooked bacon, grated cheddar cheese, sour cream and spices. Baked potatoes add a distinct flavor to a salad and combine the ingredients with a simple sour cream sauce that will remind you of your favorite stuffed potato or roasted potato soup.
Garnish the potato salad with extra green onions and grated cheese.
INGREDIENTS
° 2 1/2 pounds Potato and croissant buns (about 4 or 5 large)
° 1 to 2 tbsp. Olive oil (or vegetable oil)
° 10 to 12 thick bacon slices, diced
° 1 cup grated cheddar cheese (plus more garnish)
° 1/4 cup thinly sliced ​​green onions (plus more garnish)
° 1/2 teaspoon of celery seeds
° 1/2 teaspoon ground black pepper
° 3/4 cup mayonnaise
° 1/2 cup sour cream (light or regular)
° 4 tablespoons of milk
° Salt, to taste
° Garnish optional: freshly chopped parsley
DIRECTIONS
Preheat oven to 350 Fahrenheit.
Scrub the potatoes and bread in several places with a fork or skewer. Rubbing potatoes with olive . Put potatoes immedialtely on oven rack in preheat oven and baking about an 1 hour, take from oven & cooled down. Refrigerate potatoes until they are totaly cool.
Add bacon, cook and stir until well cooked. Remove bacon on to paper towels to drain.
Peeled chilled potatoes also cutting them to 1/2 inch tranches . Place  potato slices in a large bowl with fine bacon, one cup of grated cheddar cheese, & 1/4 cup of sliced ​​green onions.
In a small bowl, mix together celery seeds, freshly ground black pepper, mayonnaise, sour cream and milk. Mix well. Flavor & season with salt as wanted .
Stirring mayonnaise blending to potatoes & blend sweetly .
A spoonful of potato salad in a big bowl.
Decorate salad with more green onions & grated cheese, over with fresh divided parsley, if desirable .
ENJOY  !