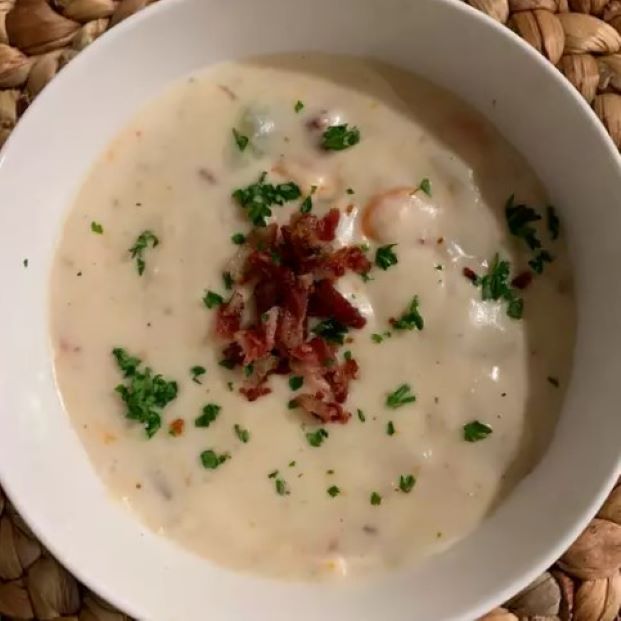 Ingredients
8-10 bacon strips, divided
2 Tbsp. butter
2 celery pieces, chopped
1 leek, finely chopped
1 large onion, chopped
2-3 garlic cloves, minced
3-4 small potatoes, peeled and cubed
1 cup broth
1 bottle (8 ounces) clam juice
1/2 teaspoon white pepper
1/2 teaspoon salt
1/2 teaspoon dried thyme
1/3 cup all-purpose flour
2 cups fat-free half-and-half, divided
3 cans (6-1/2 ounces each) of whole clams, undrained, chop into chunky pieces
Bay leaf
Chopped fresh chives or green onions, for garnish
.
Instructions
1. In a Dutch oven, cook bacon over medium heat until crisp. Remove to paper towels to drain; set aside. Add butter to the drippings; saute celery, leek, and onion until tender. Add garlic; cook 1 minute longer. Stir in the potatoes, broth, clam juice, salt, pepper and thyme. Bring to a boil. Reduce heat; simmer, uncovered, for 15-20 minutes or until potatoes are tender.
2. In a small bowl, combine flour and 1 cup half-and-half until smooth. Gradually stir into the soup. Bring to a boil; cook and stir for 1-2 minutes or until thickened.
3. Stir in clams and remaining half-and-half; heat through (do not boil); turn down to low heat; add the bay leaf. Add 4 strips of bacon (crumbled).
4. Crumble the reserved 2 strips of bacon. Garnish chowder with crumbled bacon and fresh chopped chives.